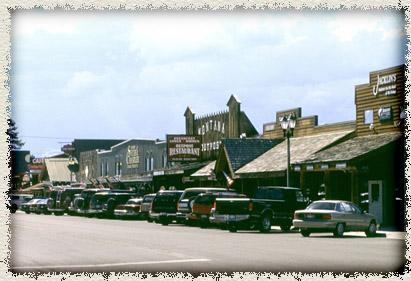 A bustling tourist town bordering Yellowstone National Park, West Yellowstone bustles in the summer season but is also world famous for winter snowmobiling and cross country skiing in and near Yellowstone, as well as snowcoaching in the Park. Located at the Park's west entrance, the town offers many hotels. During the summer, more visitors stay in West Yellowstone's lodging accommodations than any other location in the Yellowstone region. In addition to hotels and lodges, the town features a number of camping and RV parks.
West Yellowstone is located near the convergence of the states of Montana, Wyoming and Idaho. Other than Yellowstone National Park, local attractions include the Grizzly Discovery Center, IMAX Theatre and Museum of the Yellowstone. Nearby attractions include Hebgen Lake, Henry's Lake State Park, Harriman State Park and Virginia City/Nevada City. In the winter months, Big Sky Ski Resort is open.
In addition, West Yellowstone features ample and varied shopping opportunities, as well as a wide range of restaurants. For the sportsman, there are a number of fly fishing shops and outdoor equipment shops.
All in all, West Yellowstone is a popular destination for Yellowstone National Park visitors, featuring comfortable lodging, convenient access to the Park and beyond, and a variety of activities for any family.