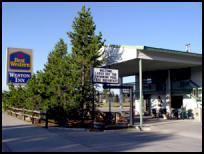 "… big clean rooms … free wireless internet … not expensive …"
Not expensive, about $65 a night. Big clean rooms with refrigerators, microwave and free wireless internet.
(Brad from the Netherlands)
"For the price, you can't beat this place."
… an older motel with exterior rooms. The price was excellent and was one of the reasons I booked there. Their breakfast is the typical "continental breakfast" without the waffle makers. Think sugar for the most part. The eating area is pretty small, tight, so if it was busy I just took my stuff back to my room. The rooms are _very_ nice. They have definitely been updated through the years. They had one internet computer, which during that time of year was usually open. There was a laundry mat right next door, so they don't have dryers and washers at their building. The laundry mat is fair priced and they have a ton of machines available. The only thing was that it was up for sale back when we were there, not sure if it ever sold or not.
For the price, you can't beat this place. If you plan on staying in your room/hotel for the duration of the day, I would spend more money for another place. If you want to be able to walk to the main center of town (the shopping and dining areas), this place may be too much of a hike for some. I never used the pool, but it is outdoor (with a hot tub as well).
(A Visitor)