Yellowstone National Park has 12 roadside campgrounds with over 2,000 sites. Reservations for most campgrounds are required. Yellowstone National Park Lodges handles reservations for most campgrounds, so you will want to familiarize yourself with current policies, and make your reservations well ahead of time.
It is recommended that people driving recreational vehicles over 30′ make a reservation since there are a limited number of campsites over 30′ available in Yellowstone. Large RV sites are located at Flagg Ranch, Fishing Bridge RV Park, West Yellowstone and Gardiner.
Drinking Water, Campfires, Grills & Stoves
Drinking water is normally available in all campgrounds with occasional exceptions. Campfires, including those in portable wood or propane fire pits, are prohibited in the Fishing Bridge RV Park. Wood and charcoal fires are permitted in all other campground locations, though special fire restrictions are occasionally put in place when the danger of wildland fires is great. If you plan to light a fire in the park, please ask about current fire restrictions at the entrance station when you arrive. Propane grills and stoves are normally not restricted.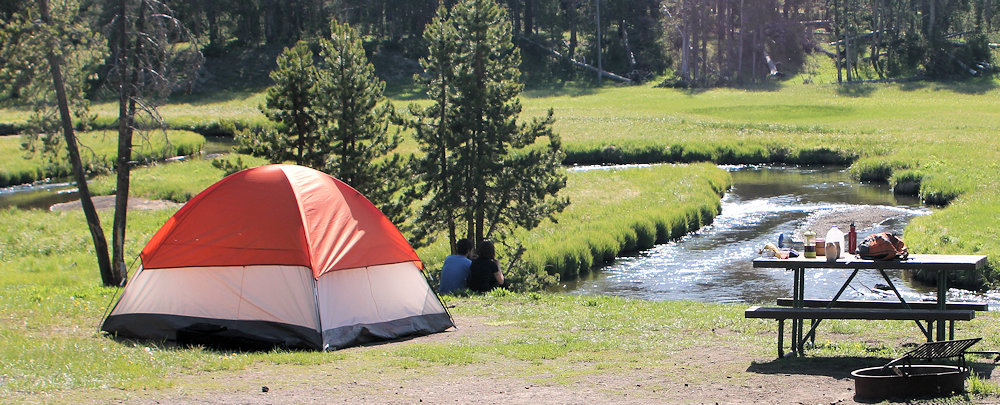 Campground Information
Dates are subject to change depending on weather and other factors. Campgrounds close at 11 am on the date listed.
* – Rate does not include tax or utility pass-through
** – Sizes are for total length of vehicle and towed equipment
A – Accessible sites available
B – Limited number of campsites set aside for bicyclists and hikers: check availability at the campground.
F – Flush toilets
H – Full hookups
V – Vault toilet
S/L – Pay showers/laundry onsite
NS – Showers not included
2S – Two showers included each night
DS – Dump station (may close when temperatures are below freezing)
G – Generators OK 8 am to 8pm (60db limit)
m. on the date listed