Trailhead: North of Alum Creek pullout, 4 miles south of Canyon Junction
Distance: 21 miles one way
Level of Difficulty: Moderately strenuous if you do the entire hike in one day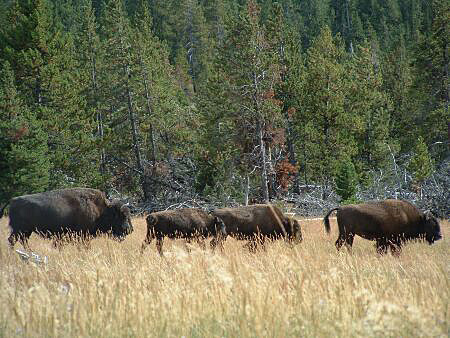 Mary Mountain has two trailheads: the eastern trail (noted above) climbs gradually up over Mary Mountain and the park's Central Plateau to the Nez Perce trailhead between Madison and Old Faithful. Elk and bison can sometimes be seen in the distant meadows. The trail through Hayden Valley is often difficult to follow as bison regularly knock down the trail markers. The western trailhead is a few hundred feet north of the Nez Perce Creek pullout. Mary Mountain makes for a long day hike, and you will need to have a vehicle awaiting you at the opposite trailhead. For shorter day hikes, the trail affords good opportunity to walk as far as you wish and then turn back. Be aware that Mary Mountain trail traverses grizzly territory, so look for posted signs concerning grizzly activity.
Photo Above: Bison traverse a meadow near the western end of the Mary Mountain trail. Photo by Bruce Gourley.