Make your snowmobile, snowcoach, and hotel reservations early. Yellowstone's winter season is a magical time. The snow is pristine and sparkling. Wolves, bison, elk and coyotes are frequently visible. The park's thermal features and waterfalls take on a whole new perspective. Other than the Mammoth to Northeast entrance corridor, the interior of the park is accessible only by Snowmobile, snowcoach or cross-country skies. The following links will help you plan your winter vacation in Yellowstone. Snowmobiling is a wonderful and thrilling way to tour Yellowstone, but only a limited number of machines are allowed in the park daily. Click here to learn more about snowmobiling in Yellowstone.
SNOWCOACHING IN YELLOWSTONE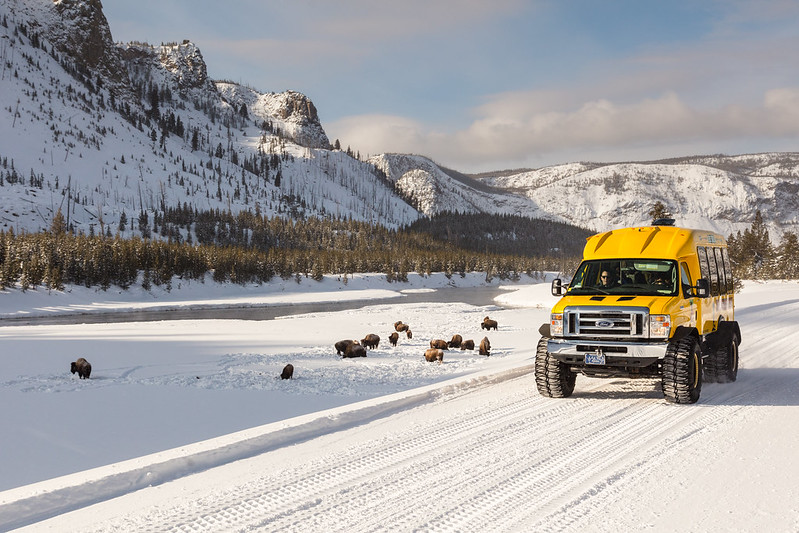 Snowcoaching is a much warmer way to tour the park. Snowcoaches stop at major attractions and allow you to explore and take photographs.
CROSS-COUNTRY SKIING IN YELLOWSTONE
For the truly adventurous nature lover, cross-country skiing is the best way to enjoy Yellowstone's winter wonderland. Trails are available throughout the park. Click here to learn more about cross-country skiing in Yellowstone.
WEATHER AND CLOTHING
Winter temperatures are severe in Yellowstone, but you can be comfortable and confident if you are properly dressed. Prepare for changing conditions by wearing clothes in several adjustable layers. It is as important to prevent overheating as it is to prevent chilling.
Be sure your clothing includes a windproof, hooded outer layer with wool or other insulated garments underneath. Wool or synthetic trousers and long underwear will help to keep your legs warm and dry in deep snow. Wind or rain-pants are lightweight and provide extra warmth on windy days. Avoid cotton jeans and sweatshirts. Thick wool socks and gaiters over boots help to keep your feet warm and dry. Wear gloves or wool mittens with shells that breathe to allow moisture to escape from sweaty hands.
When snowmobiling, wear a face mask-style stocking cap or parka hood when you need maximum protection. Dark sunglasses are a must for sunny days. High altitude sunlight reflected from snow is much more intense than at lower elevations; snow-blindness may occur if sunglasses are not worn. Apply sunscreen lotion to exposed skin to avoid sunburn.