The Old Faithful Area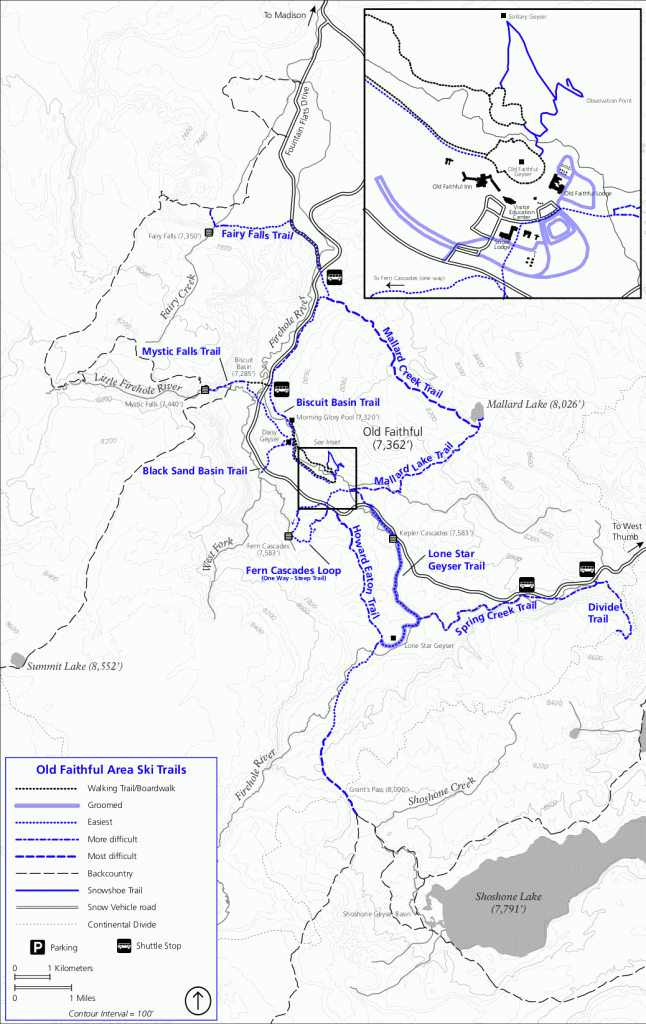 The Black Sand Basin trail, which begins in front of the Old Faithful Visitor Center next to Old Faithful, is 4.25 miles round trip. It makes its way around some beautiful thermal features, including Black Sand Pool. The trail is level, although often tracked by animals.
The Fairy Falls trail, an easy five mile round trip, starts five miles north of Old Faithful. The view of the falls in winter is stunning.
The Lone Star trail is also an easy trail, but a bit longer at nine miles round trip. This trail begins at the Old Faithful Snow Lodge, and should not be confused with the much more difficult Lone Star Geyser Loop trail.
The Biscuit Basin trail is a moderate 5.5 mile round trip that is best begun at the Old Faithful Visitor Center near Old Faithful Geyser. The trail offers views of wildlife and thermal features.
For those who want a challenge, the seven mile round trip to Mystic Falls is a difficult trail, but one with spectacular views of this wonderful Yellowstone waterfall.