1) Old Faithful / Upper Geyser Basin – Take an hour or two to walk around the boardwalks and visit some of the many other geysers in the Upper Geyser Basin, such as Castle, Grotto, Riverside and Daisy. Be sure to take the 1.4 mile walk to Morning Glory Pool, one of the most colorful thermal features in all of Yellowstone. In addition, be sure to visit the Old Faithful Inn, which is the single most impressive human structure in Yellowstone. And finally, bison and elk can oftentimes be spotted grazing in the area. The Old Faithful area features the Upper Geyser Basin, home to the most famous attraction in Yellowstone, Old Faithful Geyser.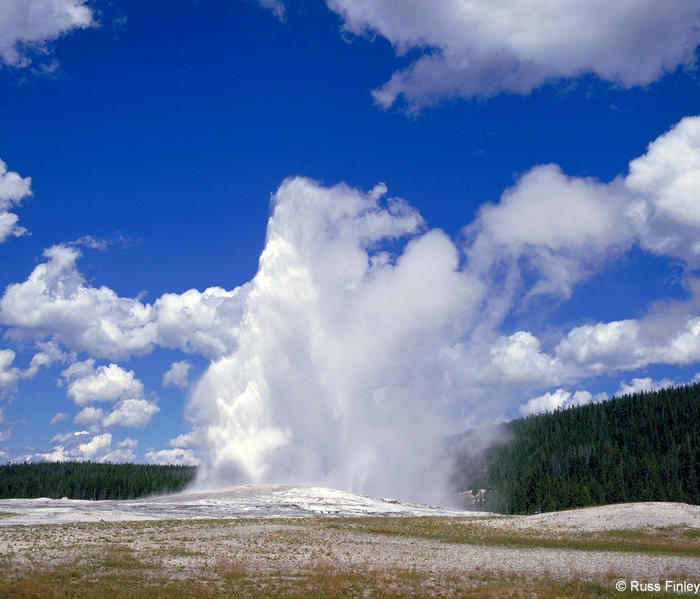 No visit to Yellowstone is complete without experiencing at least one eruption of Old Faithful. Old Faithful erupts more frequently than any of the other big geysers, although it is not the largest or most regular geyser in the park. Its average interval between eruptions is about 91 minutes, varying from 65 – 92 minutes. An eruption lasts 1 1/2 to 5 minutes, expels 3,700 – 8,400 gallons (14,000 – 32,000 liters) of boiling water, and reaches heights of 106 – 184 feet (30 – 55m). It was named for its consistent performance by members of the Washburn Expedition in 1870. Although its average interval has lengthened through the years (due to earthquakes and vandalism), Old Faithful is still as spectacular and predictable as it was a century ago.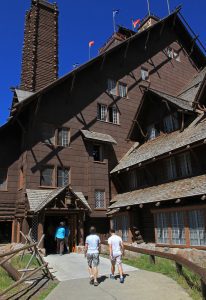 Old Faithful Inn (right) is the most popular hotel in the park. Built during the winter of 1903-04, the Old Faithful Inn was designed by Robert C. Reamer, who wanted the asymmetry of the building to reflect the chaos of nature. The lobby of the hotel features a 65-foot ceiling, a massive rhyolite fireplace, and railings made of contorted lodgepole pine. Wings were added to the hotel in 1915 and 1927, and today there are 327 rooms available to guests in this National Historic Landmark. Reservations are often difficult to obtain during peak summer season.
Unlike the Inn, the current Old Faithful Lodge is a result of numerous changes dating back to the early days of tent camps provided by companies like Shaw and Powell Camping Company and Wylie Permanent Camping Company. These camps were erected throughout the park and offered shelter before hotels and lodges were built. Both companies had facilities at Old Faithful. By 1917, auto traffic into the park was increasing, and it was decided that some camps could be eliminated. Yellowstone Park Camping Company emerged and operated on the old site of the Shaw and Powell camp, the present day site of the Lodge. In 1918, a laundry was built on the site and construction continued on the facility until 1928 when the Lodge reached its present configuration.
Cabin-style accommodations are available at Old Faithful Lodge. Often confused with the other two hotels in the area, Old Faithful Lodge houses a cafeteria, gift shop, coffee shop, and the front desk where guests check in.
A number of trails are located in the Old Faithful area. A few are listed below.
Geyser Hill Loop Trail — This short, easy 1.3 mile loop trail gives visitors a good chance of seeing a variety of geysers, from the ever-entertaining Anemone with its short intervals of 5-10 minutes to the impressive Beehive with its unpredictable eruptions reaching 100-150 feet! Trailhead: Boardwalk in front of Old Faithful Visitor Center
Observation Point Loop Trail — This 1.1 mile moderate trail gains about 200 ft. in elevation to a prominent overlook providing a great view of the Upper Geyser Basin. Trailhead: Firehole River footbridge behind Old Faithful Geyser
Mallard Lake Trail — This 6.8 mile moderate trail climbs through lodgepole pine forest (some burned areas from the 1988 fires) and along meadows and rocky slopes before terminating at Mallard Lake. Trailhead: Old Faithful Lodge cabin area
Black Sand and Biscuit Basin Trails — Easily accessed by boardwalks less than a mile in length, Emerald Pool, Sunset Lake, Jewel Geyser, and Sapphire Pool are among the features found in these less visited basins. Both areas are included in the Old Faithful area trail guide.
Lone Star Geyser Trail — This 5 mile round-trip, mostly level trail follows an old service road along the Firehole River through unburned forests of lodgepole pine. The geyser, which erupts approximately every 3 hours, puts on a delightful show.
This trail can be accessed by bicycle with the final approach to the geyser on foot. The trail-head is 3.5 miles south of Old Faithful.
Mystic Falls Trail – This 2.4 mile moderate trail follows a lovely creek through a lodgepole pine forest before reaching the 70- foot falls. By following a series of switchbacks, an overlook of the Upper Geyser Basin can be reached before looping back to join the main trail. Trailhead: Back of the Biscuit Basin boardwalk.