How to Get There
It is about 16 mile round trip. The trailhead is actually just outside the southern boundary of Yellowstone, near Flagg Ranch. Two miles south of the Park on US Hwy 287, turn west on Ashton-Flagg Road. After about a quarter of a mile, turn right. The paved road soon turns into a gravel road, and the trail starts just after crossing the spillway at the west end of Grassy Lake Reservoir. Two-wheel drive vehicles should park at the top of the dam and walk to the trailhead.
Brief Trail Description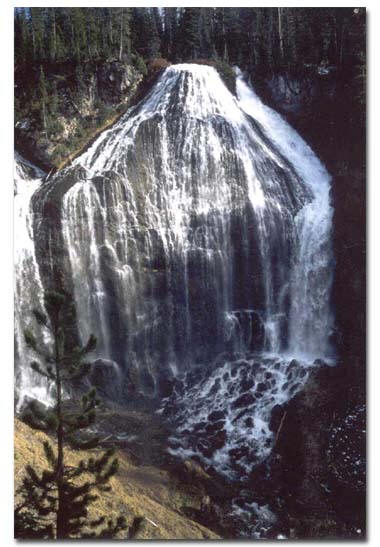 Union Falls, at 265 feet, is the second highest waterfall in Yellowstone (Lower Falls of the Grand Canyon is first at 308). The hike to it is not particularly strenuous, but is a bit long for a day hike. The waterfall is quite spectacular, and worth the hike.
Reader Contributions
"In my opinion, Union Falls is the most spectacular falls that I have seen in Yellowstone. I have seen a great number of the falls in the Park (Tower, Upper/Lower Yellowstone, Upper/Lower Colonnade, Fairy, Mystic, Osprey, Morning), and Union Falls surpassed them all. The incredible beauty of the two creeks coming together is worth the hike in. I would advise travel after August 1, when the level of the Falls River is low enough for safe crossing at the beginning of the hike (1/2 mile in). The NPS campground located near the Falls is also quite pleasant. There are two rivers that meet nearby: (1) the one coming from Morning Falls, at about 80 degrees in temperature, and (2) the one coming from Union Falls, at about 40 degrees. The only drawback is that fires are no longer allowed, and this is a grizzly zone. However, it is well worth the hike back to see." — Contributed by Scott E. Reardon (Walla Walla, Washington)
Union Falls Trail Restoration
The highly popular Union Falls Trail is located in the south-central portion of Yellowstone National Park in the Bechler Sub-District. The Bechler area is historically known as "The Cascade Corners" of the Park due to the numerous waterfalls, pools, and cascades that can be found in the area. In addition to these attractions, many Park visitors are also drawn to the Union Falls Trail because it provides access to abundant berry patches, fishing opportunities, and colorful fall foliage. Unfortunately, in 2004, high water flooded a segment of trail approximately one mile south of the falls. This flooding resulted in extensive trail and resource damage. If left unchecked, the trail will deteriorate into a waterlogged area that will present a serious hazard to hikers and stock. If this happens, it is likely that trail users will seek drier adjacent routes thus fragmenting the main trail into multiple footpaths that further damage Park resources. The National Park Service Trails Crew will collaborate with Montana Youth Conservation Corps members to repair tread damage, install drainage and erosion control structures, and revegetate impacted areas.