Since 1997, Yellowstone Net has helped millions of visitors plan their Yellowstone National Park vacation. One of America's favorite destinations, Yellowstone and the surrounding area features hundreds of lodging options, from rustic accommodations to luxury rooms. Yellowstone Net can help you choose the lodging option that is right for you.
Visitor reviews of hotels, cabins and lodges in the Yellowstone area
Whether you want to stay inside Yellowstone National Park or near the Park in one of the Gateway Communities, learn more about available lodging options with our Visitor Reviews.
Property descriptions and photos of lodging in and near Yellowstone

West Yellowstone
A bustling tourist town bordering Yellowstone National Park, West Yellowstone bustles in the summer season but is also world famous for winter snowmobiling and cross country skiing in and near Yellowstone, as well as snowcoaching in the Park. Located at the Park's west entrance, the town offers many hotels. During the summer, more visitors stay in West Yellowstone's lodging accommodations than any other location in the Yellowstone region. In addition to hotels and lodges, the town features a number of camping and RV parks.
Hotels in West Yellowstone via Expedia
Gardiner
The spectacular beauty of the Yellowstone River Valley and National Park is like no place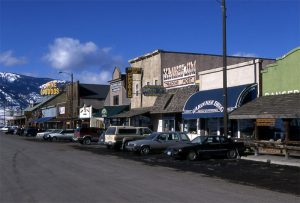 else on earth. Here at the north entrance to the Park, the original gateway dedicated by Teddy Roosevelt in 1903, lies the historic town of Gardiner. Founded in 1883 when the Northern Pacific Railway extended a line to the new Park, Gardiner was then described by a traveling reporter as "… a picturesque burb of 200 hardy souls, with 6 restaurants, 1 billiard hall, 2 dance halls, 4 houses of ill-fame, 1 milkman and 21 saloons – the local favorite being Dr. Tippie's, a neat and orderly establishment devoted to ameliorating the physical ills of mankind by dispensing invigorating liquors and soothing cigars. "
Today Gardiner remains a charming small town on the bank of the Yellowstone River, and the gateway to Yellowstone National Park, the world's premier national park.
Hotels in Gardiner via Expedia