We have a complete selection of Yellowstone National Park Maps to help plan your Yellowstone vacation.
Please Note -We try to provide the best high res maps. Some of the map files are very large so be patient while the pages load.
---
---
---
Yellowstone Google Street Views
with multiple starting points on all road sections of the Park.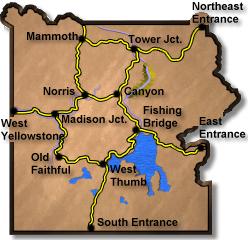 Click on a road section to start.
---
Yellowstone area maps – Click on maps to enlarge
These maps will open in a pop up on this page.
Yellowstone Ski Maps
Yellowstone National Park GPS Coordinates
Below is a list of latitude, longitude, and UTM coordinates (NAD83) for locations in Yellowstone.
Old Faithful
44 27 37.31 (Lat) -110 49 41.59 (Long)
UTM Zone 12: 4923021 N, 513665 E
Mammoth Hot Springs
44 58 34.79 (Lat) -110 42 03.37 (Long)
UTM Zone 12: 4980364 N, 523580 E
North Entrance
45 01 46.39 (Lat) -110 42 31.32 (Long)
UTM Zone 12: 4986275 N, 522949 E
Northeast Entrance
45 00 12.09 (Lat) -110 00 04.62 (Long)
UTM Zone 12: 4983809 N, 578510 E
East Entrance
44 29 18.42 (Lat) -110 00 13.80 (Long)
UTM Zone 12: 4926609 N, 579209 E
South Entrance
44 07 56.97 (Lat) -110 39 52.83 (Long)
UTM Zone 12: 4886643 N, 526824 E
West Entrance
44 39 30.27 (Lat) -111 05 49.87 (Long)
UTM Zone 12: 4945010 N, 492295 E
---
---