Select a new starting point – Links will open in above window
Crossing the Firehole River heading towards West Thumb
Isa Lake
Continental Divide
First View of Yellowstone Lake
Jct of South Entrance Road and Grand Loop Rd.
West Thumb Geyser Basin Entrance
Click on any road section for more.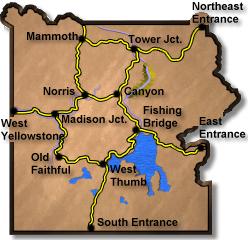 This section of road travels from Old Faithful to West Thumb Geyser Basin. It passes by Isa Lake which is on the Continental Divide. On one side of the divide, water flows to the Gulf of Mexico. On the other it flows to the Pacific Ocean.