Select a new starting point – Links will open in above window
Just South of Norris Jct
Gibbon Meadows #1
Gibbon Meadows #2
Beryl Spring
Gibbon Falls
Terrace Spring
Approaching Madison Jct
Click on any road section for more.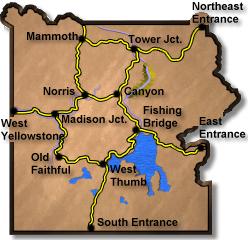 Norris Geyser Basin is the hottest most dynamic in all of Yellowstone. It's star feature is Echinus Geyser. Echinus erupts to heights of 75 feet with an interval between 25 and 45 minutes.
The road leads thru Elk Park and Gibbon meadows. This is a good area to see elk and bison.
A short trail from Gibbon meadow leads to the Artist Paint Pots.
Beautiful Gibbon Falls drops 84 feet as it glides over the worn rock to the river below