Select a new starting point – Links will open in above window
Grant Village Turnoff
South Entrance Road
Lewis Lake
Lewis Falls
Moose Falls
South Entrance
Click on any road section for more.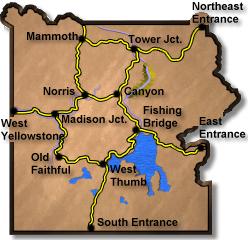 The South Entrance to Yellowstone leads from Grand Tetons National Park and the Rockefeller Memorial Parkway. A short distance from the south entrance is Moose Falls. Here Crawfish Creek tumbles down from the plateau toward the deep canyon of the Lewis River. Lewis Falls is another beautiful spot as it plunges 37 feet.