Select a new starting point – Links will open in above window
Just East of Fishing Bridge
Mary Bay
Steamboat Point
Near Cub Creek
Sylvan Lake
Sylvan Pass
East Entrance
Click on any road section for more.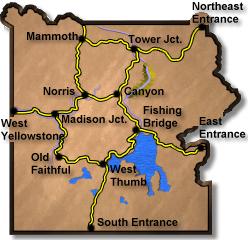 The East Entrance Road passes thru some of the most beautiful alpine scenery in all of Yellowstone. The entrance is at 7,200 feet and the road climbs to 8,541 feet. Sylvan Lake is a popular stop along the East Entrance Road.